Busholini was a 4 piece Punk rock band in Portland Oregon, by way of Eugene.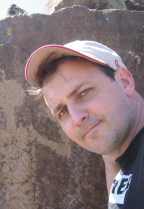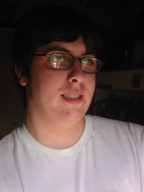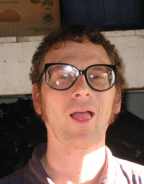 Avowedly anti-fascist, the band dedicates itself to mocking and verbally abusing both the 'W' administration and the cultural continuum which has allowed it to come to be. For those who may wonder, the band's name makes reference to the Italian dictator Benito Mussolini, an ally of Adolph Hitler's Germany during the early days of World War II. The band plays an intense and personal style of hard-core which some have considered to be in the same territory as Dead Kennedys, D.O.A., Turbo Negro and the Circle Jerks. Singer El Dufe spent many years as a D.J. in Eugene. He became somewhat infamous for on-air antics, ultimately drawing at least one threatened lawsuit! Busholini is just one more avenue for him into punk, having been involved in several northwest scenes for many years. Original Guitarist 'The Architect' is a virtual prodigy- having cut his teeth on the finest pre-sellout grunge as a child he now wields a six-string prowess far beyond his tender years. The rhythm section of "Rummy" Rumsfeld and Recursive Murv have been bar-band, punk- and indy-rock stalwarts for years, with a combined experience of nearly forty years of rock-solid time keeping and riff-support.
All four members feel this band has achieved a chemistry previously unachieved in their chequered careers. And for a purpose- to draw attention to the illegitimate authority which has seized control of our nation and threatens to set us all back decades in every department of life.
GOD TOOK OUR BASS PLAYER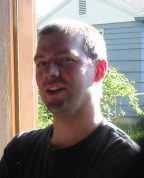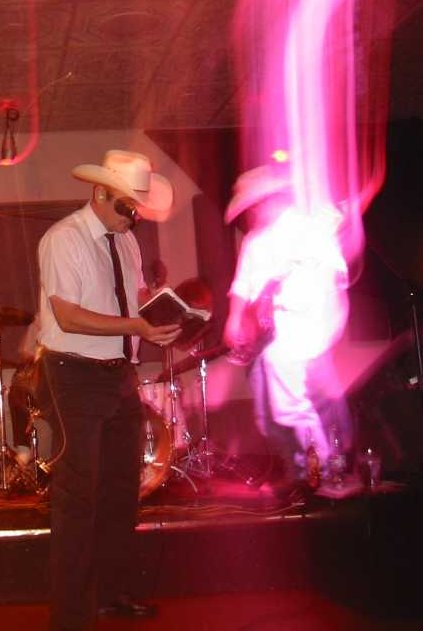 Ed FromAroundTheCorner before, in god's first attempt to take him, and again just before his final ascension into the heavens!
El Dufe Speaks:
It's all Hippy Tim's fault.
Two years ago when my girl was in Denmark for a quarter I was drinking regularly with Tim Kinney (DOA rodie, Shudders Bass player) at the Tiny Tavern during the Cascadia crews weekly screeing on CTV. Tim wanted to start a political punk band -- somewhere between Discharge and "Kill the F*king Pope". *BuSShler with the Nazi/Metal SS was the proposed name; BuSShtika went around for a while.
Busholini seemed more like it to me.
KWVA's Engineer Nathan Cox once said that Bush II would be the best thing that happened to punk rock since Reagan and Thatcher. I thought that that was one of the crassest (and dumbest) things I had heard in a long time.
I am not sure that this band is what he had in mind.
Anyway, we're here and we're going to get in your face.